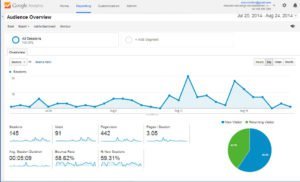 In business, the ability to measure results is a fairly important thing to be able to do. When it comes to a web site you need to have Google Analytics installed.
Google analytics has a host of tools that you can use to analyse the behaviour of visitors to your website. First off is the number of visitors to your site shown as a graph, in hourly, daily. weekly or monthly timeframes. This was useful recently to me when I started to publicise my business by using a blog. As soon as I publicised the blog on social media, I could tell it had been successful because I could see the spike in traffic.
Obviously information such as this is very handy for understanding any marketing initiative you undertake to see if it's working.
In addition to that you can look at the user flow, I.e. where they land. What pages they go to. Very handy to see where people are going when they visit your site. Seeing if they move on from the front page to other pages or they just look at your landing page and don't got any further.
You can also see the kinds of devices they are on. Useful if for example you were thinking about optimising your site for mobile users. You could check to see how many people were looking at your site on tablets and phones, then you would know that it was a good idea to do.
Then there is the demographics of the users, where they browsed from and other information like that, as well as whether the visitor is a new or returning visitor. All of these things add up to paint a picture of your website traffic. Internet marketing (because let's face it, your website is a key marketing tool for you) is a numbers game. You want to know what increases your traffic, you want to know if you are attracting new visitors to your site. You want to know if you have enough content of interest to your users to keep them coming back, as well as if what you're doing to increase traffic is working.
So that is just a brief overview of why Google Analytics is important to you.
A small plug. If you are all at sea when it comes to things like setting up things like Google Analytics, contact me. I can help.
The following two tabs change content below.